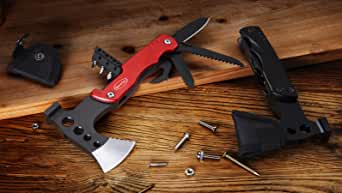 Camping AllynX Multitool Axe

Details:
STEEL
YOUR ULTIMATE COMPANION – Tackle almost all jobs in almost every situation with your all in one multitool, READY FOR WHATEVER, WHENEVER. A daily multitool in your hand, meet the most innovative DIY home and craft projects, or your outdoor adventure, camping, hiking, backpacking, even emergency case. No more constantly going up and down ladder to get other specific tools from your entire toolbox, life can be so easy! Let your mini hammer multitool move with you and become your smart helper!
YOUR EVERYDAY LIGHTWEIGHT CARRY KIT – Carry your daily multitool with you, saving weight and space over a set of individual tools which perform the same functions. With the newly-designed and premium Nylon pouch's pocket clip, you can hold it on your belt, safe and easy! Handle is featuring ergonomic design, easy to take out from pouch, comfortable to hold on hand to use. No more sore hands or blisters when using this tool.
YOUR RELIABLE AND DURABLE GEAR – This cool camping hiking backpacking survival multitool adopts premium quality black oxidation stainless steel with black coating fixation and watermark camouflage treatment in handle, which is durable, high hardness, rust-proof and corrosion-resistant. With hatchet/axe, hammer, screwdriver, saw, knife, bottle opener all together, USE WITH CONFIDENCE!
YOUR ESSENTIAL SURVIVAL MULTITOOL – This cute tool kit features emergency tools that are accessible in a snap when unexpected tasks come up. Just in case of an emergency or even self-defense, such as shatter car's glass or cut safety belt in a dangerous escape etc., please keep one in your car, also your family's. One more backup emergency tool, more peace of mind for your family.
YOUR GREAT CHOICE OF A GIFT – Absolutely the must-have stocking stuffers gift for adventure seekers, the ones who enjoy outdoor exploring, camping, hiking, fishing, backpacking, handyman, DIY, Do-It-Yourselfer, Father, Son, Teens, Boyfriend, Man or Woman in Birthdays, Christmas, or Father's Day. Personalized gifts will bring them a big smile! Get the camping tool gift for them now!
Recommended Retailers
Price history and price alert


-
AllynX Camping Multi Tool
Camping Multitool Axe, Hatchet, Hammer, Knife, Pliers, Bottle Opener
PROS
Price - under $25
Quality - sharp knife, small, durable
Ease of Use - Versatile tool for an adventure
CONS
You won't cut logs, but it's great for smaller cutting.