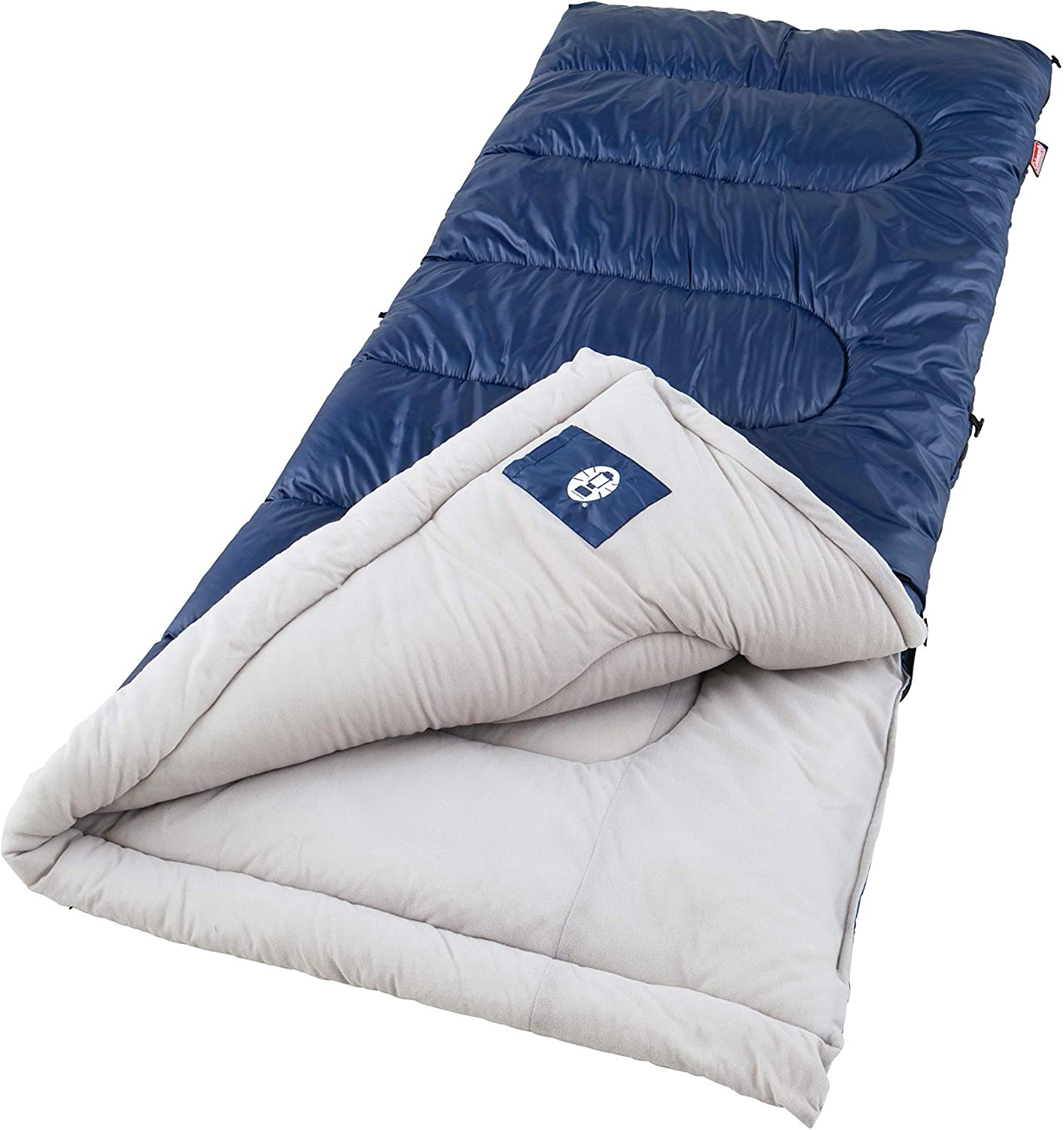 Sleep comfortably, even when it's 20 degrees F outside in the Coleman Brazos Cold Weather Sleeping Bag. The specially-designed, patented zipper system plows through the fabric to avoid snags, even around the bottom corner. The Thermolock System reduces heat loss though the zipper, and Fiberlock Construction prevents insulation from shifting — extending the life of your sleeping bag. When you're ready to pack up, the patented Roll Control System keeps the bag in place for easier rolling and the stuff sack makes packing and storing a cinch. The sleeping bag is machine washable. Model: 2000004419.
For temperatures 20 degrees F to 40 degrees F
Fits most heights up to 5 ft. 11 in.
Dimensions: 33 in. x 75 in.
Polyester cover and tricot knit lining
Zip two together for double the room
5-year limited warranty
Roll Control
Simplifies packing by locking the edges of the bag together to keep your bag straight as you roll it up.
Quick Cord
Snaps and locks, eliminating the need to tie or knot the cord after the bag has been rolled, for easy 1-person packing.
ZipPlow
Uses a zipper guide to push fabric away from the zipper's teeth for snag-free opening and closing.
Comfort Cuff
Adds plush material to the edge of the bag, giving you soft, relaxing comfort close to your face while you sleep.
Recommended Retailers
Price history and price alert

Didn't find the right price? Set price alert below
Lowest price Product: Coleman Sleeping Bag | Cold-Weather 20°F Brazos Sleeping Bag, Navy, 10" x 17.8" x 10.4" - $45.73
-
Can't go wrong with Coleman
This bag is accurately rated and very warm-to-too-hot indoors in a 65°F room. It was perfect for 30° to 55°. Not lightweight for backpacking, but is medium and thickly padded. Extra length is good. Frog buttons on sides aid in rollup by keeping length together. Thickness makes rollup challenging. No odor. Flannel inside is cozy. Perfect for tent or car-camping. Also used as a quilt indoors.
PROS
Roll Control
Quick Cord
ZipPlow
Comfort Cuff
CONS
Not lightweight for backpacking