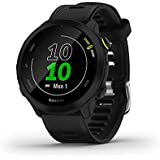 This GPS smartwatch tracks your stats, crunches the numbers and gets to know all about your performance, your running form, your training and even your goals.  This Garmin Forerunner watch does more than track your exercise.  It's PERFECT for camping.  The safety features speak for themselves.  And maybe you'll do some training too??
Monitor your training load to see if you're fully owning it or just overdoing it.
You keep running and so will your battery life — for up to 7 days.
Prep for your next race like a boss with free Garmin Coach adaptive training plans.
Finesse your form by tracking running dynamics.
It'll watch your back for you with incident detection and assistance features.
Get the perfect look and your favorite apps — all free — from the Connect IQ™ Store.
Recommended Retailers
Price history and price alert

Didn't find the right price? Set price alert below
Lowest price Product: Garmin Forerunner 245 Music, GPS Running Smartwatch with Music and Advanced Dynamics, Black - $239.88
-
Garmin Forerunner Watch - Perfect for Training + Camping!
It's sleek and lightweight — perfect for running and everyday wear - even when you're camping!
PROS
Built-In GPS - track where you are with accuracy. Be safe while camping!
Pulse OX Sensor - Estimates your body's blood oxygen saturation. This is important if you're camping remotely.
Sleek design - need we say more??
Overall - fantastic watch, not only for telling time, but also for workouts and safety while in the woods!
CONS
Needs connectivity to IQ store.