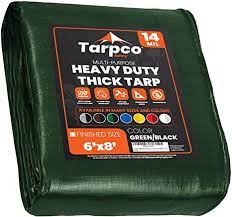 Tarpco 14 Mil Tarp Details:
FINISHED SIZE: Tarpco Safety's sizing for the tarps are finished size which means when you choose your size you get the full size tarps and it's not short a few inches from both sides like other companies.
100% VIRGIN POLYETHYLENE: Most tarps are made with recycled or mixed materials. Tarpco Safety, on the other hand, uses pure, virgin, non-recycled polyethylene, that's why our multipurpose tarp is super durable and won't tear, rip or rot. Tarpco Safety's heavy duty poly tarp is built to last.
STRONG GROMMETS & REINFORCED EDGES: The protective tarp has a 14 x 14 weave count, reinforced edges and metal grommets every 24 inches. The tear-resistant material is super durable while the metal grommets allow you to tie down the tarpaulin cover easily, using bungee cords or a strong rope.
CONVENIENT MULTIPURPOSE DESIGN: You can use this plastic tarp sheet to cover many different kinds of objects, like roofs, boats, pools, outdoor furniture, or you can use it to make canopy tents, go camping, cover the floors when you paint, and much more.
UV RESISTANT, WATERPROOF AND WEATHERPROOF: You can use the ultra-thick tarp throughout the entire year, whether it's windy, raining, snowing or raining. The premium poly tarp is weatherproof, waterproof and UV resistant and it will protect any object from all extreme weather conditions.
Recommended Retailers

$29.95

$37.95
September 22, 2023 12:18 pm
×
Product prices and availability are accurate as of the date/time indicated and are subject to change. Any price and availability information displayed on Amazon.com (Amazon.in, Amazon.co.uk, Amazon.de, etc) at the time of purchase will apply to the purchase of this product.
1 new from $29.95
Price history and price alert

Didn't find the right price? Set price alert below
Lowest price Product: Tarpco Safety Extra Heavy Duty 14 Mil Tarp Cover, Waterproof, UV Resistant, Rip and Tear Proof, Poly Tarpaulin with Reinforced Edges for Roof, Camping, Patio, Pool , Boat (Brown/Black 8′ X 10′) - $29.95
-
Heavy Duty Camping Tarp
Built to last! Weatherproof protection for your gear - or perfect for under your tent while camping!
PROS
Price - Varies depending on size
Quality - 14 x 14 weave count, reinforced edges and metal grommets every 24 inches
Ease of Use - It's a tarp - EASY!
CONS
Some feel the 14 mil is not accurate (appears thinner than stated)