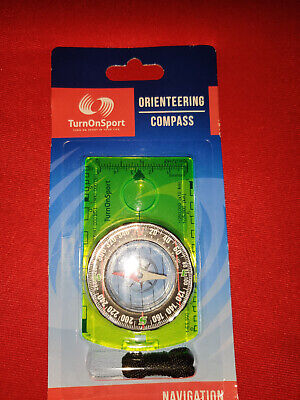 Turn On Sport Compass Details:
KEY FEATURES: This manual magnet compass consists of Acrylic Baseplate with Azimuth bearing and 360 degree rotating bezel. With the help of a magnetic needle which consists of a liquid-filled capsule (bubble free) helps to swing fast and freely point you towards north. The Magnifying Glass is used for reading and navigating geological maps. Along with this, it has the compass Ruler Scale of 1:24000 for precise route mapping
PORTABLE & LIGHTWEIGHT: Boy Scout compass is small in size and an essential piece of survival gear to have in your pocket or hiking backpack. Both children and adults can use it, easy to carry during your trips especially for field trips. Portable Handheld Compass with magnetic needle and directional arrow, orienting lines compass and lanyard
PROFESSIONAL, ADVANCE COMPASS NAVIGATION: Our orienteering compass is constructed for accurate directions and making it an ideal all-around land navigation kit for hikers, campers, girl & boy scouts and survivalists
HIGH QUALITY: On every outdoor journey, a vital and high-quality compass keeps you feeling secure and can read topographic maps. Ideal for use with a kayak, camping trip, climbing expedition, or seeing animals outside
IDEAL SURVIVAL GIFTS FOR HIKERS: During any emergency situation where you feel stuck or forget the way, this device can turn out to be a savior to make you out of depth. So, this BSA compass is an ideal gift for beginner cub scout and eagle scout, adults who love hiking, outdoors, girl & boy kids and fishermen's
Recommended Retailers

$10.57

$11.99
×
Product prices and availability are accurate as of the date/time indicated and are subject to change. Any price and availability information displayed on Amazon.com (Amazon.in, Amazon.co.uk, Amazon.de, etc) at the time of purchase will apply to the purchase of this product.
1 new from $10.57
Price history and price alert

Didn't find the right price? Set price alert below
Lowest price Product: Orienteering Compass Hiking Backpacking Compass | Advanced Scout Compass Camping Navigation - Boy Scout Compass for Kids | Professional Field Compass for Map Reading - Best TurnOnSport Survival Gifts - $10.57
-
Don't Leave Home Without This!
Orienteering Compass Hiking Backpacking Compass, Camping Navigation, Professional Field Compass for Map Reading
PROS
Price - Reasonable for a great quality product
Features - Vibrant color, easy to read
Quality - Durable plastic