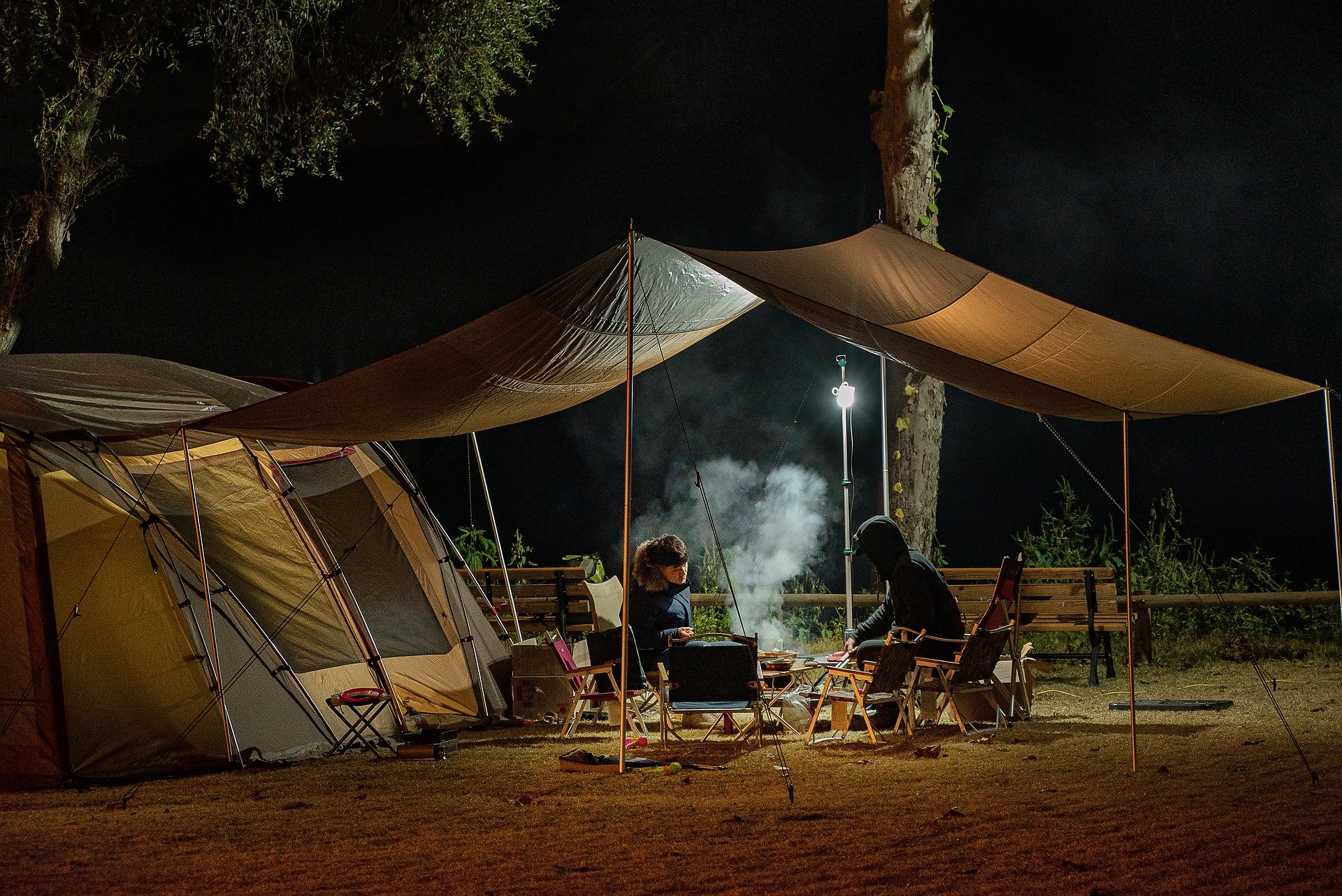 Camping hacks ensure a great family activity. There are so many fun activities you can participate in, and there are so many things in nature to discover. Preparation is key for a successful and safe camping experience. Here are our top hacks to make your next camping trip hassle-free and full of fun for everyone.
Top Camping Hacks:
Plan your meals ahead of time. Wrap corn or potatoes in aluminum foil with butter and seasoning before you go.  Then bake them directly in the campfire coals when you get to your destination. Prepare popcorn in advance for a tasty campfire treat. Take a large rectangle of aluminum, place a handful of corn kernels in the middle.  Next, fold the foil in half and seal all the edges. Leave plenty of space for the corn to puff up and expand. Throw it into the coals and remove using tongs or a stick once the popping has stopped. Be careful!  The foil will be hot, hot, hot!

Pack foods frozen in Ziploc bags like Chili con Carne, Bolognese, or premade burgers in your cooler to eat for dinner the next day. The frozen items keep the cooler cold and prevent food from spoiling as it slowly defrosts.
Freeze water bottles to use in your cooler. This will keep things cold and can be consumed once defrosted.
Invest in a portable gas stove. This is our favorite gas stove. Cooking over an open fire tastes great, but when you want morning coffee, it's much quicker to put a kettle on a stove. Another alternative is a portable gas BBQ.  Looking for recipes? Check out this blog post for easy campfire foods.
If you are traveling with young children, or are a light sleeper, consider buying a blackout tent. These tents have darker sleeping areas and can help everyone sleep in, past first light. If a new tent isn't an option, pack an eye mask.
Consider a solar-powered phone charger. Amazon has a lot of solar-powered phone chargers to choose from. Just make sure to get the right adapter! It can be charged in advance and topped up with the sun, so you won't be caught short in an emergency.
Pack glow sticks. A fun way to entertain the kids and see them easily in the dark. They can also be hung on the tent ropes once the kids are in bed so you can find your tent in the dark and avoid tripping over any ropes.

Pack a cheap 2 man tent to use for additional storage. It can be used to store clothing, food, sports equipment and free up space in the family tent. It also allows items to be stored under cover in case it rains, and can act as an extra changing room or a chill-out space.
Don't bring a suitcase. Pack clothes in plastic storage crates with lids. Crates can be used as temporary tables or seats. Wet or dirty clothes can be stored in a crate for the journey home, and it is easy to know what is stored where. To be even more organized, pack clothes in packing cubes first using a different color per family member.
Pack dry food in a plastic storage crate or cooler with no ice. Keeping food in sealed bags further prevents ants and other bugs from invading your food.
Invest in sleeping mats. The Exped Down Mat XP 9 Sleeping Pad is our choice and is our favorite and well worth the investment. A layer of air or foam between you and the ground helps keep you warm and dry and stops twigs and stones from irritating you through the night.
Pack a dustpan and brush to keep the floor free of dirt and crumbs. When packing up your tent, wrap the brush in tape, sticky side out, and the dirt will stick to the tape making clean up super quick.
Always pack a first aid kit. Essential items include tweezers, bite cream, band aids, antiseptic, antihistamine tablets (can also be used as travel sickness tablets), and pain killers.
Keep children busy. Plan plenty of activities to keep your little ones entertained so you get a chance to relax too. A pack of cards can provide hours of entertainment for the whole family. Bring a book on local plants and animals and see how many you can find. A great opportunity to educate children on dangerous animals like snakes and how to stay safe. Build a stick shelter using fallen branches. Teach your children how to whistle with a blade of grass, or make an acorn whistle.
Be prepared. Pack a "just in case" kit: Duck tape, penknife, spare rope/string, tarpaulin, and an extra flashlight.
Other Hacks:
While keeping these tips in mind, your next camping trip will be one to remember. A camping trip with one's family and/or friends can be an amazing experience, and preparation is key. From planning meals to extra tent storage, to entertainment with cards, books, and games: there are lots of pieces to keep track of! This list has many tips and hacks meant to make camping preparation easier. Camping can be fulfilling and hassle-free with the right steps. Have fun!