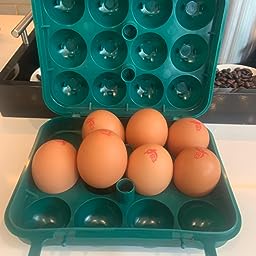 Stansport Egg Container

 Details:
Strong and durable plastic case protects eggs from breakage
This egg container is an essential part of your cooking kit
Cover locks tightly
Holds 12 eggs
Fits USDA Large Eggs.Molded handle
Recommended Retailers

$8.33
September 22, 2023 3:14 am
×
Product prices and availability are accurate as of the date/time indicated and are subject to change. Any price and availability information displayed on Amazon.com (Amazon.in, Amazon.co.uk, Amazon.de, etc) at the time of purchase will apply to the purchase of this product.
1 new from $8.33

Price history and price alert

Didn't find the right price? Set price alert below
Lowest price Product: Stansport One Dozen Egg Carrier (266) 7" L x 6.5" W x 3.25" H - $8.33
-
Sturdy Egg Carton for Camping
Egg container securely holds 12 eggs. Perfect for coolers and travel. Durable plastic with molded handle.
PROS
Price - Don't even look at the price! So worth the ten bucks!
Quality - Molded plastic is durable but clips may break down after years of use.
Ease of Use - So. Easy!
CONS
After many years of use, the locking clips may break, but the carton can still be used.