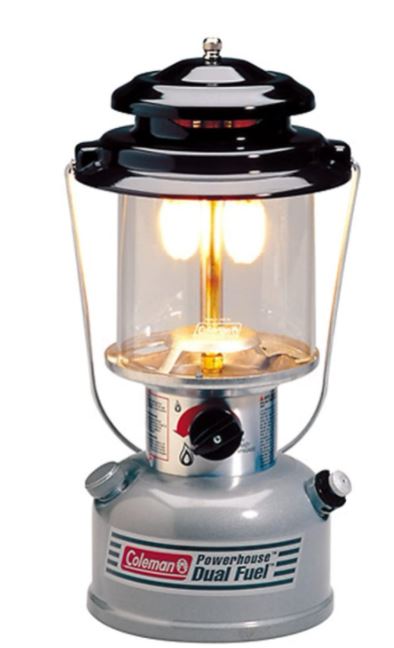 If convenient refills are important to you, check out this Coleman Dual-Fuel 2-Mantle Lantern, which runs on either unleaded or white gas.
Best for: Campsites
Features include:
Adjustable light output
8 to 14-hour burn-time per tank of fuel, depending on the setting you use
Included funnel to prevent fuel spillage while refillingEase of use—simply pump, light, and adjust the control knob
Heat-resistant glass globe
Coated steel fuel tank
Porcelainized steel ventilator
Wire handle for carrying or hanging
No-leak fuel tank cap
Compatible with #21 Coleman mantles
Recommended Retailers

$102.71

$114.99
December 10, 2023 7:12 am
×
Product prices and availability are accurate as of the date/time indicated and are subject to change. Any price and availability information displayed on Amazon.com (Amazon.in, Amazon.co.uk, Amazon.de, etc) at the time of purchase will apply to the purchase of this product.
2 new from $102.71
1 used from $86.31

Price history and price alert

Didn't find the right price? Set price alert below
Lowest price Product: Coleman Premium Powerhouse Dual Fuel Lantern - $102.71
-
Coleman Dual-Fuel 2-Mantle Lantern runs on either unleaded or white gas
Light up the campsite in any weather with the efficient Coleman® Powerhouse® Dual Fuel™ Lantern. Dual Fuel™ technology gives you the convenience of using Coleman® Liquid Fuel or unleaded gasoline. And since one gallon of Coleman® Liquid Fuel lasts as long as 4.5 cylinders of propane, you can take less fuel with you to save money and packing space. The 2-mantle design of this lantern creates a steady, bright glow of up to 800 lumens of light that reaches up to 22 meters away. A quick match strike is all you need to get your lantern started, then simply dial in the perfect brightness with the adjustable control knob. Once your lantern is lit, the fuel tank provides a steady base when placed on a table, and the bail handle allows for easy hanging. When you're ready to head home, so is this lantern since it doesn't require any disassembly, which means it's always ready to go with you on your next bright adventure.
PROS
Dual Fuel™ design conveniently burns Coleman® Liquid Fuel or unleaded gasoline
All Season Strong™ technology provides reliable operation in all weather conditions
1 gallon of Coleman® Liquid Fuel lasts as long as 4.5 cylinders of propane