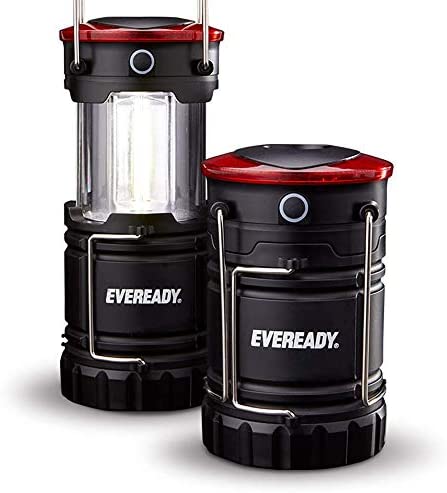 Eveready LED Camping Lantern Details:
Includes 2 (two) Eveready Collapsible Camping LED Lanterns each lantern operates with 3 AA batteries (included), so you have the power and light you need, right out of the box.
The LED lantern provides super bright, white LED light as a lantern, or can be used as a flashlight for directional lighting. 360 degress of room, or campsite-filling light!
Use the strong magnetic base on these lanterns to mount the light, or simply hang it with the convenient base hook – perfect for hanging in tents!
This Camping Lantern has 4 awesome light modes: 360 degree lantern mode, directional flashlight mode, red night vision mode, and flashing red strobe/SOS mode for emergencies.
Delivers up to 16 Hours of continuous runtime in lantern mode, and up to 9 Hours in flashlight mode. Reliable, long-lasting light for indoor and outdoor activities
Trust in the Eveready Brand for reliable power and performance. Building durable lights, with reliable power, to fit your lifestyle.
Recommended Retailers

$21.89

$27.99
December 10, 2023 7:18 pm
×
Product prices and availability are accurate as of the date/time indicated and are subject to change. Any price and availability information displayed on Amazon.com (Amazon.in, Amazon.co.uk, Amazon.de, etc) at the time of purchase will apply to the purchase of this product.
1 new from $21.89
Price history and price alert

Didn't find the right price? Set price alert below
Lowest price Product: EVEREADY 360 LED Camping Lantern (2-Pack), Collapsible LED Lanterns, Rugged Survival Kits for Hurricane, Emergency Light for Storm, Outages, Outdoor Portable Lanterns - $21.89
-
Quality Eveready Camp Lantern
Super Bright Tent Lights, Rugged Water Resistant LED Lanterns, 100 Hour Run-time
PROS
Price - Very affordable - and remember, you're getting 2 lights for this price!
Quality - Eveready is a solid brand
Ease of Use - Collapsible feature is cool