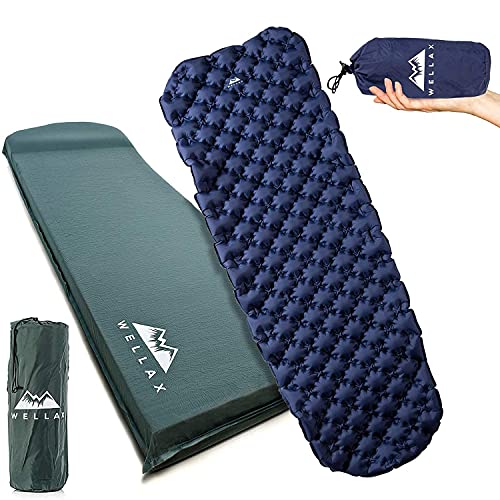 WELLAX Sleeping Pad Details:
NO MORE BACK-PAIN : The only foam camping mat you will ever need! Say goodbye to back pain because your weight is supported by the UltraFlex Memory Foam mattress. Roll over or sleep on your side.
COMPACT & LIGHTWEIGHT : Self-inflating convenience meets air mattress comfort to create the perfect camp mattress for you. Your hiking trips will be comfortable and you will be sleeping like in your own bed.
REVOLUTIONARY DESIGN & TEAR RESISTANT : Provides a good balance between comfort and durability. This camping pad is waterproof, tear-resistant and insulates heat. Use this camping mat in any weather and on any terrain.
EASY TO INFLATE AND DEFLATE : Self-inflating technology makes it easier for you to use this pad. Come rain or shine or even snow, the WELLAX UltraThick FlexFoam Sleeping Pad will bring you the comfort you need.
PERFECT GIFT : What better way to celebrate holidays and birthdays than by giving the gift of adventure to your friends and family? Share the Sleeping Pad with friends and family and unlock the joys of camping and travel.
NO RISK PURCHASE – MONEY BACK GUARANTEE : Your satisfaction is our guarantee. If you feel this sleeping pad is not for you, you are covered with a lifetime warranty and our team will help you refund or replace your purchase.
Recommended Retailers
Price history and price alert

Didn't find the right price? Set price alert below
Lowest price Product: WELLAX Sleeping Pad - Foam Camping Mats, Fast Air Self-Inflating Insulated Durable Mattress for Backpacking, Traveling and Hiking - Ultrathick All-Weather Foam Pad with Build in Pillow (Green-3") - 0.00
-
Self-Inflating Insulated Durable Mattress
Ultrathick All-Weather Foam Pad with Built in Pillow (Green-3")
PROS
Price - Varies depending on style
Features - Memory Foam
Quality - Thick enough to sleep on your back or your side
CONS
Hard to find leaks and, therefore, difficult to repair