Let's talk camping chairs!  Spring is here.  Summer will soon follow. Now is the time to find suitable camping chairs for all of your outdoor activities. Whether you are heading to outdoor concerts, going on camping trips, or want to sit out in your backyard and look at the stars, you are going to need a good chair.  Here's our roundup:
Camping Chairs Roundup
Alpha Camp Oversized Camping Chair
The Alpha Camp Oversized Camping Chair is a moon-styled folding chair that is meant to provide convenience and comfort. The chair neatly folds and fits into a storage bag with a strap that you can easily carry with you to any event.
The Alpha chair is designed for comfort and can hold body weights of up to 350 pounds. It has a side pocket to hold personal items or your drink. The seats are padded, including the armrests, making this one of the most comfortable folding chairs in the industry.
Trekology Yizi GO Portable Camping Chair
The Trekology Yizi Go portable camping chair is one of the lightest chairs on the market, making it perfect for hiking or carrying long distances to events.  It also works well for packing on the back of a motorcycle. At only 2 pounds total weight, anyone can easily carry this chair.
The Trekology Yizi chair is made with polyester material making it easy to clean. It has breathable areas.  So you never get overheated while you are sitting in the chair. It has a very durable construction with a weight capacity of up to 300 pounds. You will love the lower back support that you get from the design of this chair.
REI Co-op Camp X Chair
Designed for comfort, the REI Co-op Camping chair is built to evenly distribute your weight for the most comfort. All-too-often, camping chairs are built to place a lot of weight on a single area of the body, making them not very comfortable to sit in for long periods of time. You will not experience this discomfort in the REI Co-op camp chair.
Made from polyester and mesh, the chair is designed to be easy to clean and stays well ventilated. Holds weights up to 300 pounds. The chair has a large cup holder and a side pouch to store small items like your cell phone. In addition, it easily collapses to be stored in a bag, making it very easy to transport.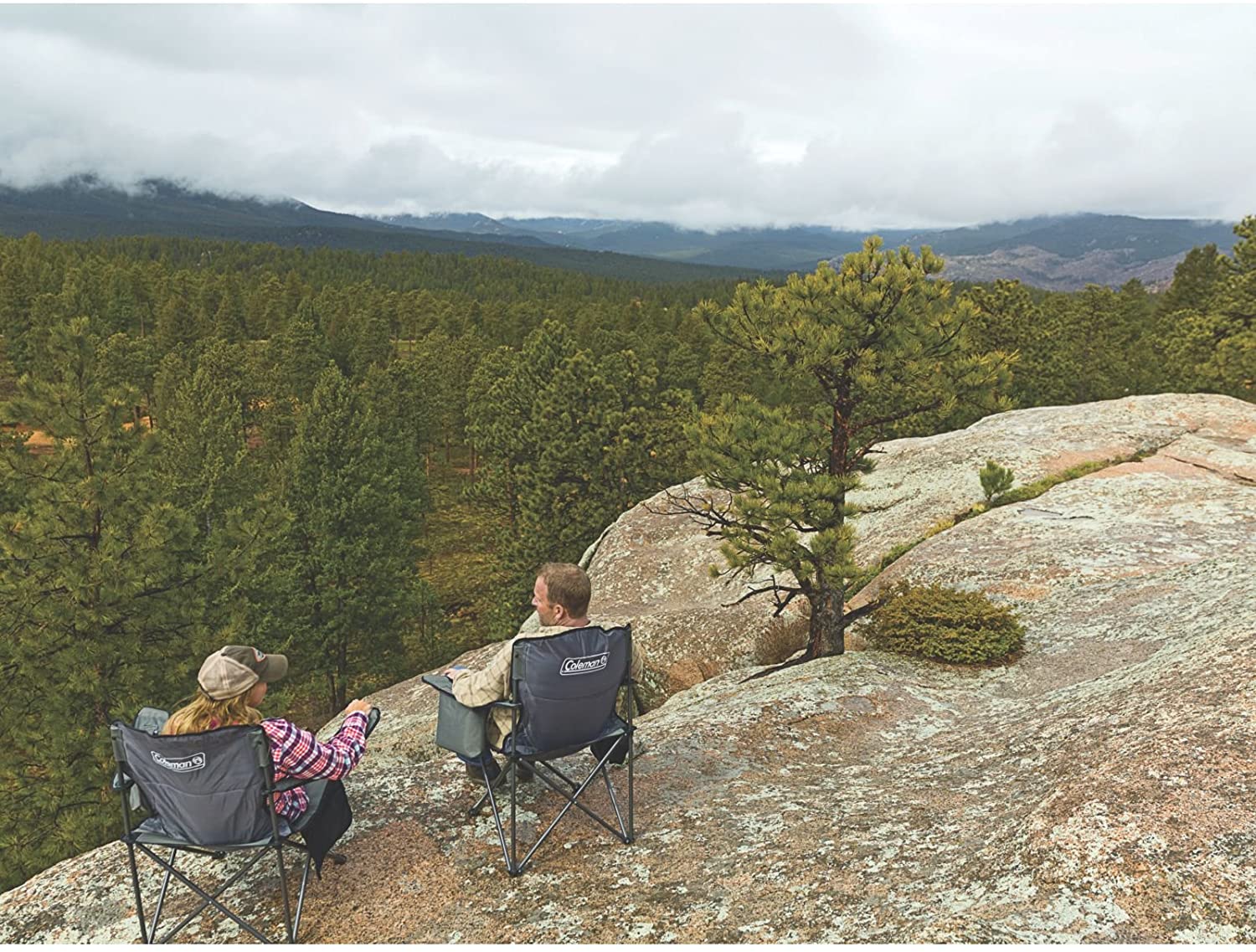 Coleman Camping Chair With Built In 4-Can Cooler
The Coleman Camping chair with a built-in 4-can cooler is all about comfort and convenience. The chair is designed with a wide seat and headrest so you can sit back and relax. There is a large cup holder and side pocket for your phone. It also has a 4-can cooler built in so that you always have a cold drink available.
The Coleman chair is made from breathable mesh materials that are easy to clean. The chair has a sturdy frame that has a weight capacity of up to 325 pounds. The chair folds easily and fits into a storage bag to easily transport.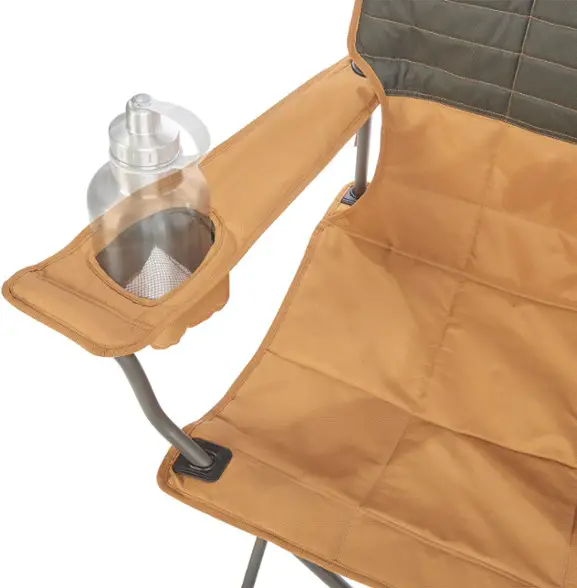 Kelty Loveseat Camping Chair
Why carry around two chairs when you can carry a loveseat? The Kelty Loveseat camping chair is the perfect choice for those who want to sit close!  Also, it's perfect for dog parents! Built for comfort, the seat has a large seat area so both people can be comfortable. Each side has a cup holder and pouch for personal items.
The Kelty Loveseat is made from durable material and is well vented to keep the seating area cool. It has a total weight capacity of 400 pounds and neatly folds into a storage bag.
Our Take on Camping Chairs:
Think about your usage of the chair.  Consider your options as well as prices.  OurWares has grouped these camping chairs conveniently.  You can choose what's right for you at a glance.  With so many great choices for outdoor seating, all you have to do now is make some plans to get outside!