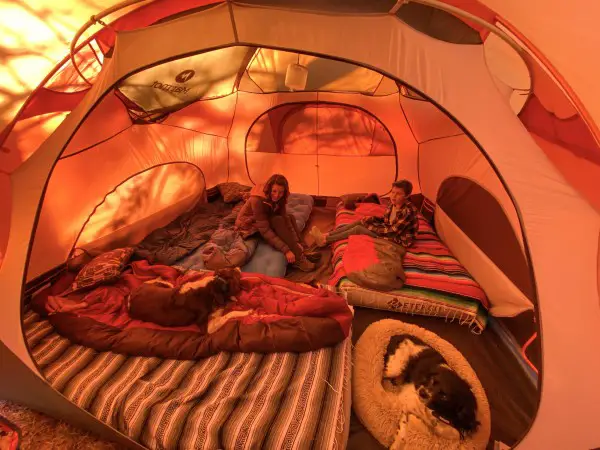 Owning the best tent for camping is a must for all outdoor enthusiasts!  Having the right tent can make or break your camping experience. Whether you're a solo traveler, an ultralight backpacker, or a family seeking a cozy shelter, the market offers a plethora of options. In this comprehensive guide, we'll explore the best tents available, categorizing them by affordability, weight, and family-friendliness.  And, ultimately, we'll unveil the all-around champion for your camping needs.
Best Tent for Camping by Category
We begin with affordable tents.  Let's face it.  Camping is about quality outdoor time.  No one wants to break the bank.  OurWares shows you great budget-friendly options.  Next we'll delve into the weight category.  For those wanting to go deep in the woods, this section is where you'll want to begin your search.  Our list would not be completed without a section for family friendly tents.  Finally, rounding out our categories is the tent we believe is the winner of them all.  It is our pick for best overall tent.  We're sure at least one of the many tents listed below will be your best tent for camping!
Most Affordable Tents: Camping on a Budget
ALPS Mountaineering Lynx 1-Person Tent
Priced for the budget-conscious, the ALPS Mountaineering Lynx 1-person tent doesn't compromise on quality. With a durable build, easy setup, and weather-resistance, it's a fantastic option for solo adventurers.
Coleman Sundome Tent Series
Coleman is a household name in camping gear, and their Sundome series will not disappoint. Affordable, user-friendly, and available in various sizes, it's an excellent choice for families or budget-conscious solo campers.
Wenzel Alpine 3 Person Tent
Offering a spacious interior at an affordable price, the Wenzel Alpine 3-person tent is a solid choice for small groups. It has a simple setup and durable construction.  These features alone make it perfect for those who want reliable shelter without breaking the bank.
CORE 9 Person Extended Dome Tent
For larger groups or family outings on a budget, the CORE 9-person tent provides ample space without a hefty price tag. Easy setup, multiple windows, and a removable rainfly make it a versatile and affordable option.
Kelty Late Start 2 Person Tent
Kelty's Late Start 2-person tent strikes a balance between affordability and quality. It is lightweight and is very easy to set up. This is an ideal choice for backpackers on a budget.
Lightest Tents to Carry: Feather-Light Adventures
Big Agnes Tiger Wall UL2
Weighing in at just over two pounds, the Big Agnes Tiger Wall UL2 is a very light tent designed for backpackers who prioritize weight. It features a spacious interior and two doors for convenient access.  Great tent to consider if you'll be carrying a tent for a lengthy distance.
NEMO Hornet Ultralight Backpacking Tent
The NEMO Hornet is a favorite among ultralight enthusiasts. Weighing around two pounds, it doesn't compromise on space or durability.  This is an excellent choice if you're counting every ounce.
Zpacks Duplex Tent
Pushing the boundaries of ultralight design, the Zpacks Duplex Tent is made from Dyneema fabric.  The fabric may be ultralight, but it is also incredibly durable. It's a top choice for thru-hikers and minimalist campers.
MSR Hubba Hubba NX 2-Person Lightweight Backpacking Tent
MSR's Hubba Hubba NX strikes a balance between weight and livability. With a trail weight of around three pounds, it provides ample room for two and is easy to carry on extended backpacking trips.
Best Tents for Families: Roomy Comfort Under the Stars
REI Kingdom 6 Tent
The REI Kingdom 6 is a palace for camping families. With separate rooms, a standing-height interior, and a durable design, it provides the comfort and space needed for an enjoyable family camping experience.
Columbia Mammoth Creek 10-Person Cabin Tent
If you're looking for a tent that feels more like a cabin, the Columbia Mammoth Creek is your answer. With a capacity for 10 people, it's perfect for large families or group outings.
Eureka Copper Canyon LX 8-Person Tent
The Eureka Copper Canyon LX offers a blend of space and convenience for families. With its cabin-style design, it provides a comfortable camping experience for up to eight people.
The All-Around Champion: Versatility at Its Finest
Big Agnes Copper Spur HV UL2
Combining lightweight design, durability, and a roomy interior, the Big Agnes Copper Spur HV UL2 stands out as the all-around champion. It's versatile enough for solo backpacking trips yet spacious and comfortable for two campers. With its easy setup and reliable performance in various conditions, it's a tent that truly excels in all aspects of camping.  Of course, we do realize this tent (while we think it's perfect) isn't the best choice for a large family.  BUT, you could be more than one to accommodate everyone!
Final Words:  Finding the perfect tent depends on your specific needs and preferences. Whether you're prioritizing affordability, weight, or family-friendliness, the market offers a diverse range of options. Remember to check out our selection of tents on OurWares Tent Archives to explore and find the perfect shelter for your next outdoor adventure. Happy camping!