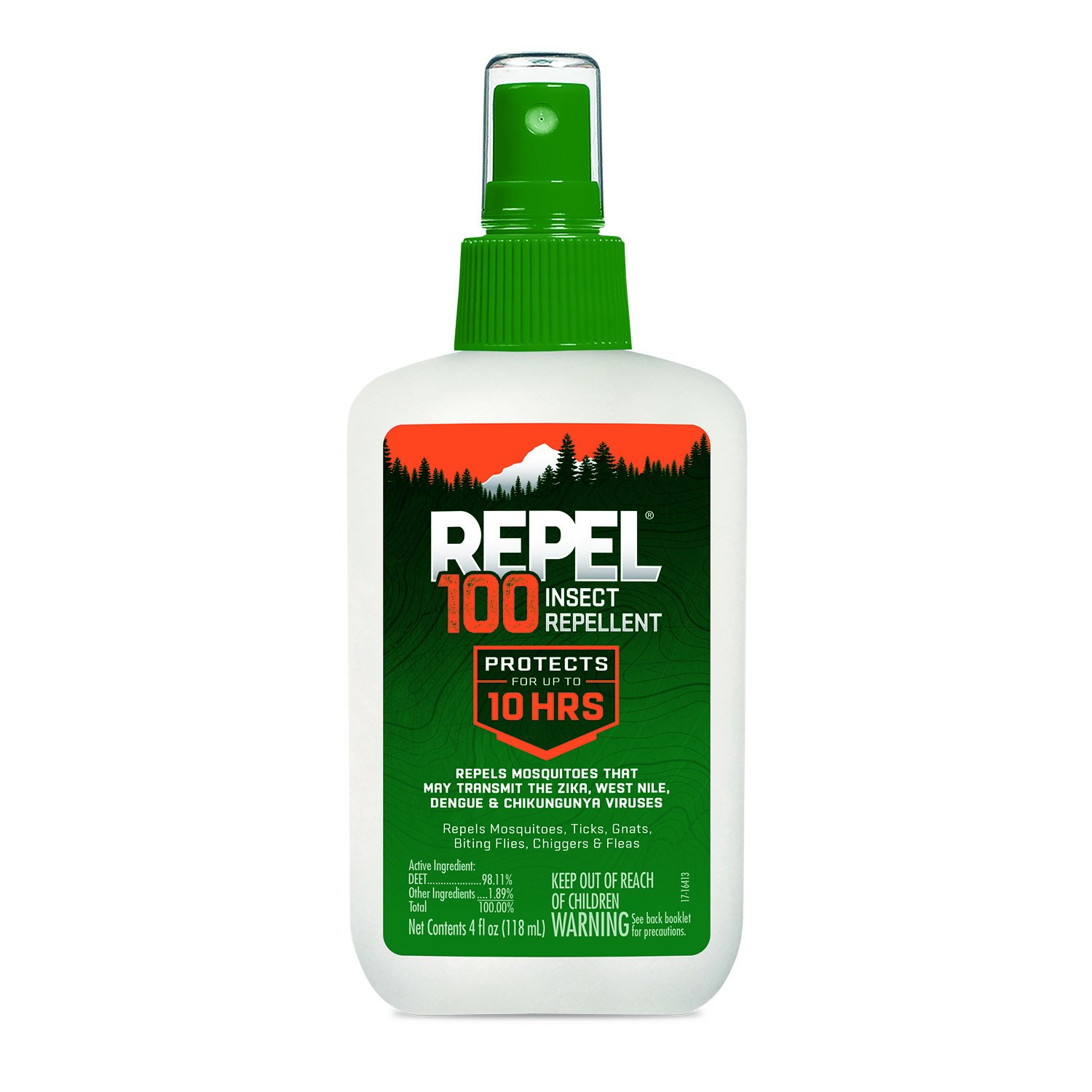 Introducing the Repel 100 Insect Repellent!  Camping just got way more enjoyable!  It comes in a pump spray, has 4-fluid ounces with 10-Hour Protection.  This is a necessity for anyone seeking to keep bothersome insects at bay. It is highly effective and provides long-lasting protection against a wide range of insects. Repel is a well-established brand recognized for its reliable products in the insect repellent market. Repel 100 Insect Repellent is competitively priced at $7.48 and typically is easy to locate.
This product's reliability and effectiveness have earned it a high aggregate rating of 4.5/5.  And this is based on a whopping 10,243 customer reviews! The rating is a testament to the satisfaction of thousands of users who have tried and tested the product and found it to meet their needs effectively. Personally, we don't camp without it!
Repel 100 Insect Repellent is formulated to offer maximum protection against mosquitoes, ticks, gnats, biting flies, chiggers, and fleas. In addition to these, it also protects against the Zika, West Nile, Dengue, and Chikungunya viruses.  In other words, don't leave home without this repellant.
Repel 100 Insect Repellant Description
Repel 100 Insect Repellent stands apart from its competitors because of its unique formulation. It is designed to offer maximum protection in severe insect conditions. Its key feature is its ability to repel an extensive range of insects, providing a bug-free outdoor experience. The repellent contains a high concentration of DEET (98.11%) which is known for its effectiveness against various insects.
DEET is a highly effective insect repellent.  Repel 100 ensures you get the maximum protection possible. It works by interfering with the sensory receptors of insects, rendering them unable to locate their targets. This makes the Repel 100 Insect Repellent an excellent choice for areas with intense insect activity such as forests or tropical regions. So whether you're hiking through a dense forest or relaxing in your backyard, you are well-protected against potential insect threats.
Repel 100 is set apart from other products on the market by its long-lasting protection. With just one application, this product offers up to 10 hours of continuous protection.  This saves you the hassle of frequent reapplications.  You get to focus on your activities and enjoy your outdoor time to the fullest.
Its compact size and easy-to-use pump spray mechanism make Repel 100 an ideal travel companion. Whether you're backpacking across continents or going on a weekend camping trip, this insect repellent is a must-have to ensure a comfortable and bug-free experience.
Product Specifications
Repel 100 Insect Repellent comes in a compact size of 2.25 x 0.75 x 6 inches and a lightweight design of merely 0.16 ounces. This makes it easy to carry around and extremely travel-friendly. Its compact nature ensures that it can conveniently fit into your luggage or backpack without adding significant weight.
It is unscented making it a great choice for those who are sensitive to fragrances or prefer a fragrance-free option. This ensures that while you're protected from pests, you're not overwhelming others or yourself with strong odors that may be off-putting. Furthermore, the product comes in a spray form, which allows for an easy and even application on the skin.
Repel 100 is made in China and is manufactured by United Industries, a name that is synonymous with quality and reliability in the world of insect repellents. The product is produced in accordance with high manufacturing standards ensuring its quality and effectiveness. Rest assured, with its reliable manufacturing process and rigorous quality control, the Repel 100 Insect Repellent is a product you can trust.
Customer Reviews and Ratings of Repel 100
Favorable customer reviews and ratings strongly attest to its effectiveness and reliability. With an overall customer satisfaction rating of 4.5/5, based on thousands of reviews, it is clear that those who have used this product have been satisfied with its performance.
One customer shares their experience of using the product in Florida.  They found it to be extremely effective against the local mosquito population.  Of note, they found the product to be superior to all the others they had tried before.  Additionally, they expressed their satisfaction with the phrase, "THIS PRODUCT FREAKING WORKS!!!!!!!" This real-life example clearly illustrates the product's effectiveness in areas with intense insect activity.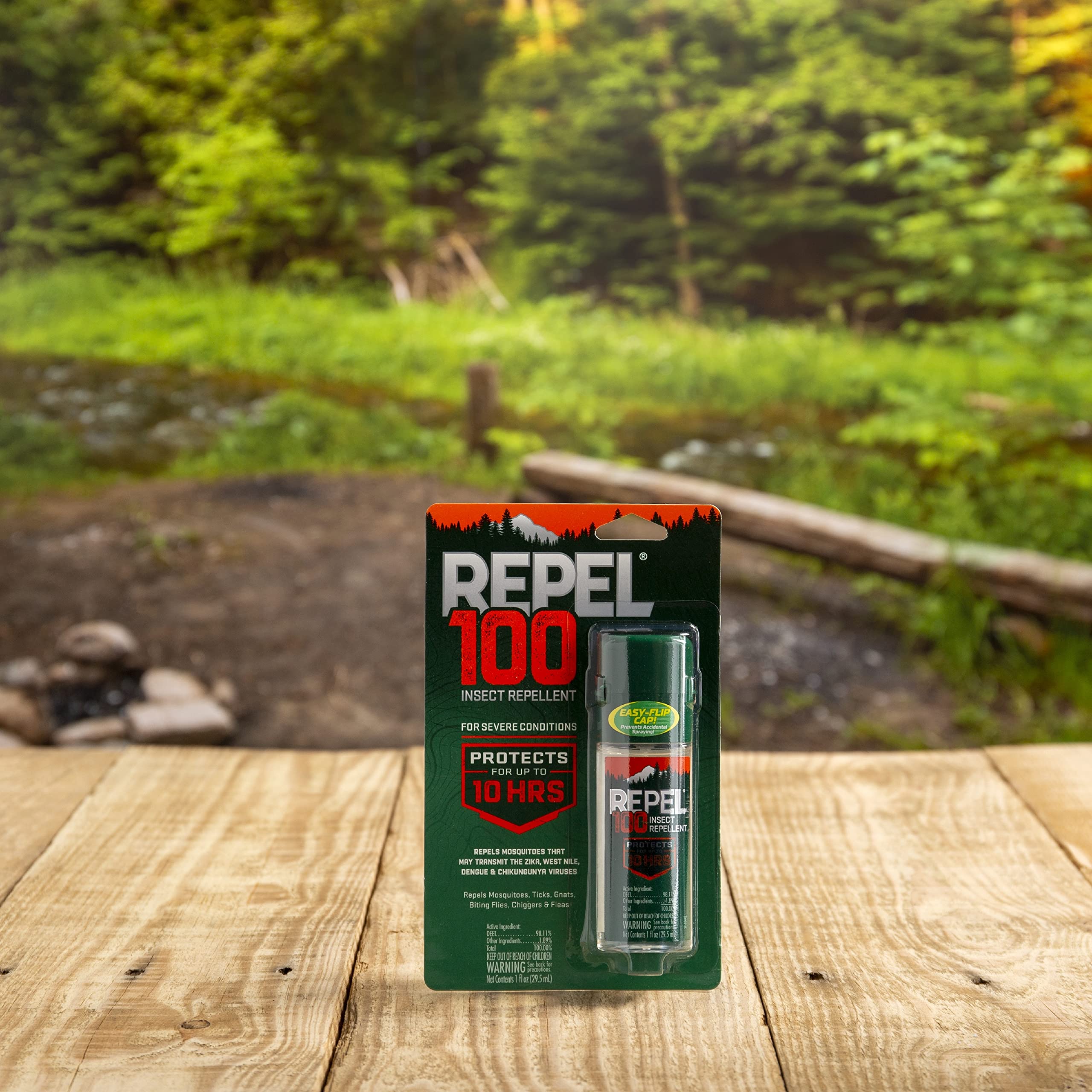 In addition to effectiveness, customers have also appreciated the product's long-lasting protection. One customer from Africa shares, "Bought this to keep the mosquitoes away in Africa and it worked wonders! Did not get a single bite the entire trip!" What a great demonstration that the product's claim of providing up to 10 hours of protection is not just a marketing gimmick but a feature that truly delivers.
Pros and Cons
Like any other product, the Repel 100 Insect Repellent has its pros and cons. It is important to consider both when making a purchase decision to ensure that the product meets your specific needs and preferences.
Pros:
The product is effective in repelling a broad range of insects making it a versatile choice for outdoor activities.
The high DEET concentration makes it especially suitable for severe insect conditions.
It provides long-lasting protection for up to 10 hours saving you from the inconvenience of frequent reapplications.
Its compact size and easy-to-use pump spray make it an ideal travel companion.
On the flip side, there are a couple of considerations that users should keep in mind:
Cons:
The high concentration of DEET might not be suitable for everyone. Some people may be sensitive to this ingredient, so it's important to patch test the product before full application.  An option is to use the product on clothing and hats.
While the product is unscented, some customers may prefer a fragrant repellent. If you prefer your insect repellent to have a scent, this product may not be the best fit for you.
Conclusion
In conclusion, Repel 100 Insect Repellent (Pump Spray, 4-Fluid Ounces, 10-Hour Protection) offers a comprehensive solution for your insect protection needs. With its powerful formulation and long-lasting protection, it is designed to offer maximum protection in severe insect conditions. The product's impressive customer feedback and its affordable price make it a recommended choice for those seeking an effective and reliable insect repellent.
Repel 100 Insect Repellent is not just a repellent.  It's your answer to a hassle-free and enjoyable outdoor experience. Whether you're planning a camping trip, a hiking adventure, or simply spending time in your backyard, this product will ensure that you're protected from pesky insects and will allow you to fully enjoy your outdoor activities.