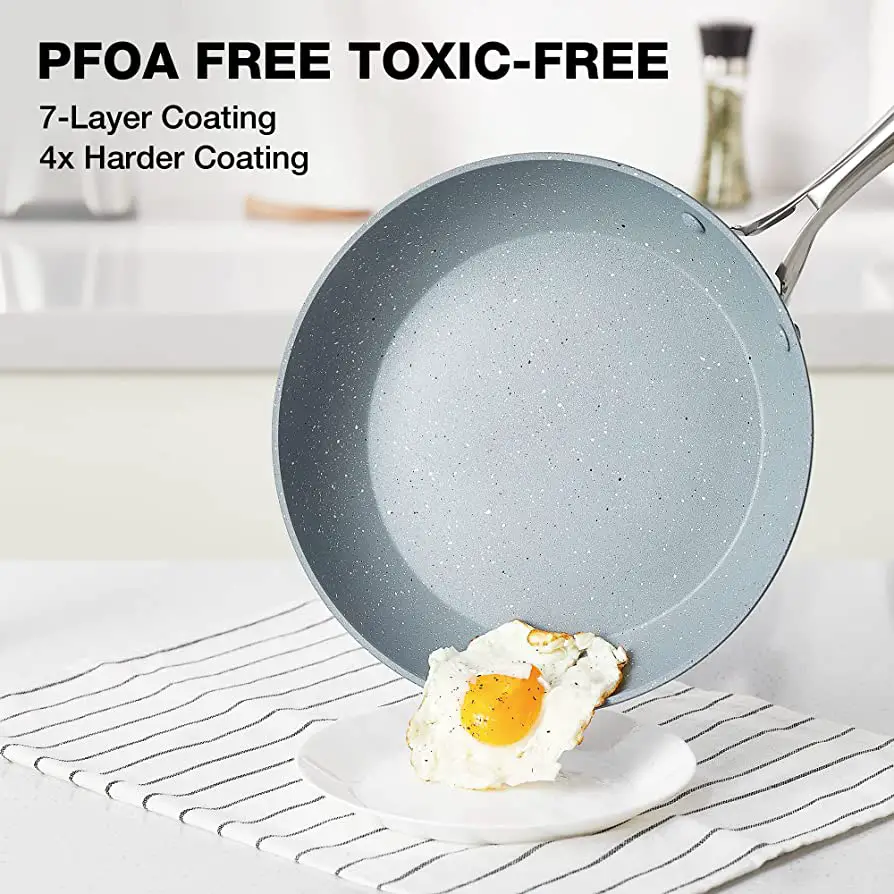 HLAFRG Nonstick Pan 8 Inch Frying Pan with Lid Details:
HEALTHY & NON-TOXIC – 8 inch multi-purpose frying pan is satisfied with daily cooking.The natural non-stick granite coating is free of PFOA, PFOS, lead & cadmium for a healthier and more convenient cooking experience everyday.
INTERNAL AND EXTERNAL NON-STICK COATING– HLAFRG non-stick pan is composed of natural non-toxic granite material, with three layers of non-stick coating the inner and outer surfaces, which greatly enhances the non-stick performance of the pan, makes the whole pan easy to clean, and improves the durability of the pan.
ERGONOMIC STAINLESS STEEL HANDLE-The riveted stainless steel handle is comfortable to hold and stay-cool. And it's also resistant to high temperature cooking and oven safe up to 420°F.
INDUCTION COMPATIBLE – The bottom of this pot consists of a stainless steel composite bottom plate, making the pan compatible with all stovetops including induction, ceramic burners and gas.
VARIETY OF CHOICES – The frying pans provided by Hlafrg are multi-colored and multi-sized, which can meet the various needs of consumers intimately.
Recommended Retailers

$23.99
December 10, 2023 1:15 pm
×
Product prices and availability are accurate as of the date/time indicated and are subject to change. Any price and availability information displayed on Amazon.com (Amazon.in, Amazon.co.uk, Amazon.de, etc) at the time of purchase will apply to the purchase of this product.
1 new from $23.99
Price history and price alert

Didn't find the right price? Set price alert below
Lowest price Product: HLAFRG 8 inch Nonstick Frying Pan with Lid, Black Granite Skillet with Non Toxic APEO & PFOA Free,Even Heating and Less Oil,8 inch Omelet Pan with Heat-Resistant Handle,Suitable for All Stove - $23.99
Price history for HLAFRG 8 inch Nonstick Frying Pan with Lid, Black Granite Skillet with Non Toxic APEO & PFOA Free,Even Heating and Less Oil,8 inch Omelet Pan with Heat-Resistant Handle,Suitable for All Stove

Latest updates:

$23.99 - December 4, 2023
$21.59 - November 23, 2023
$23.99 - November 8, 2023
$21.99 - July 3, 2023

Since: July 3, 2023

Highest Price: $23.99 - November 8, 2023
Lowest Price: $21.59 - November 23, 2023
Nonstick Camp Frying Pan
Non Toxic APEO & PFOA Free, Even Heating and Less Oil, Oven Pan with Heat-Resistant Handle
PROS
Price - Watch for sales. Decent price for quality camping cookware
Quality - All nonstick surfaces will wear or be damaged. Use plastic utensils
Ease of Use - Super fast cleanup makes this fantastic for camping
CONS
Nonstick surface will scratch, wear over time. Pan should be discarded when this happens