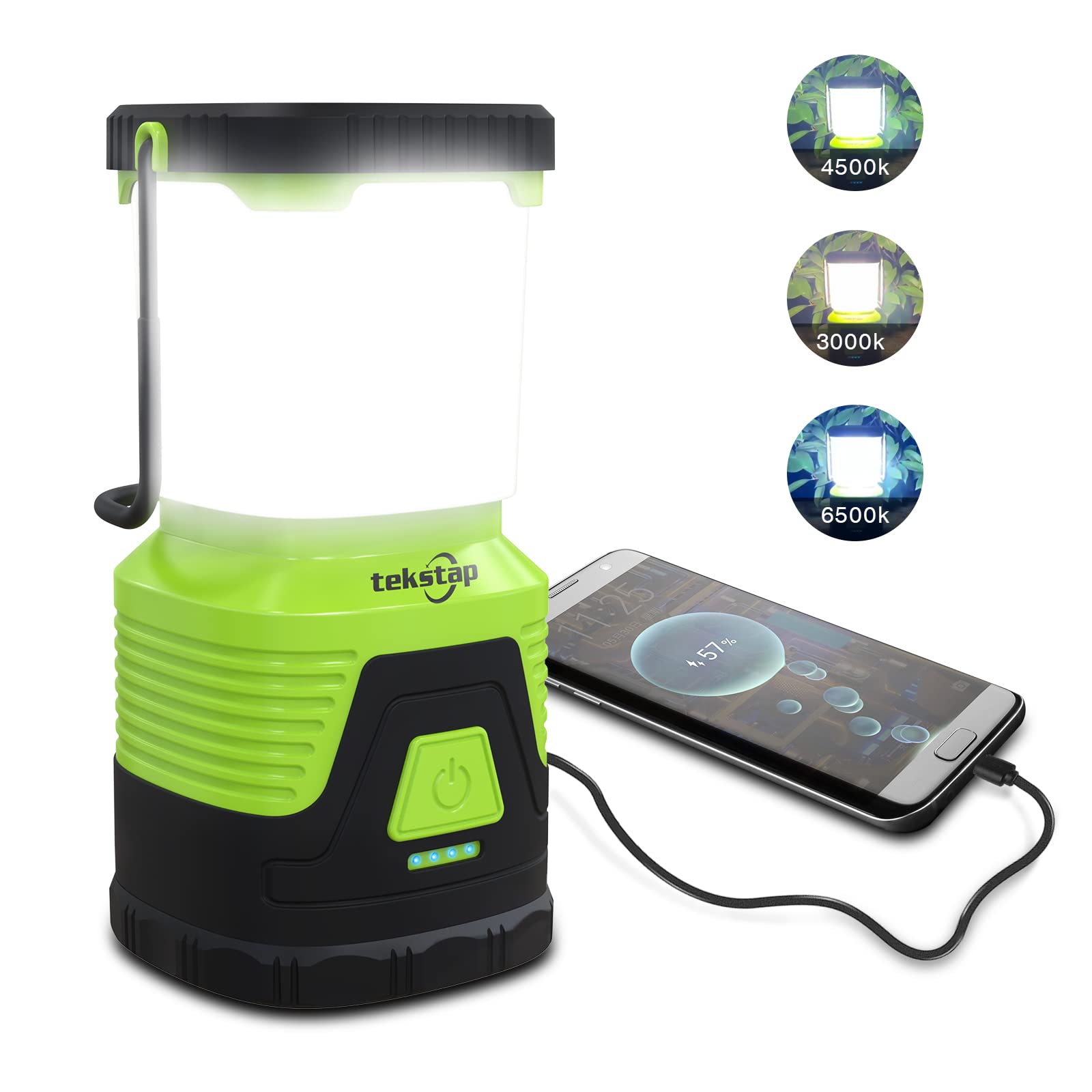 Tekstap LED Camping Lantern Details:
【Sufficient Brightness & 4 Lighting Modes】Tekstap Rechargeable Camping Lantern equipped with 42 LED lamp beads, which can reach 1000 LM. 4 different lighting modes to choose from: Day Light(6500k), Natural Light(4500k),Warm Light(3000k), Flashing. Switching the light mode by pressing the rubber button once.
【Rechargeable Camping Lantern & Power Bank Function】Bulit in 5000mAh rechargeable battery can be used as a power bank for mobile phone in emergency charging. Big capacity of the battery allows the led tent light to work up to 10 hours and can be fully charged within 2 hours.
【Waterproof & Drop Resistant】IP54 waterproof level makes the rechargeable camping lantern be protected against splashing water from all directions, which could be very helpful for outside work on rainy days. The outdoor rechargeable lantern has a shock-resistant case that can protect the led lantern flashlight from drops of up to 1.5ft. IK06 drop resistant standard.
【Carabiner & Removable Cover】Built-in carabiner at the bottom of the camping light allows you to hang the led camping lantern on your tent or backpack. The lampshade can be unscrewed to improve the lighting area.
【Ideal for Camping and Outdoor Sports】The led camping lantern has a great grip thanks to its handle, that makes it easy to carry outside. Lightweight(0.92lbs) and small size(3.58×3.58×7.32inch) is perfect for a backpack or a travel emergency kit. Tesktap led lantern flashilight can also help light up your patio or backyard during winters!
Recommended Retailers
Price history and price alert


-
Tekstap LED Camping Lantern
Rechargeable,1000 LM,4 Light Modes,IP54 Waterproof Tent Light,5000mAh Power Bank, Lantern Flashlight for Hurricane Emergency, Hiking, Power Outage Indoor, USB Cable Included
PROS
Price - Under $30
Quality - Rechargeable!
Ease of Use - Good grip, lots of easy to use features
CONS
Need to remember to keep it charged! ;-}