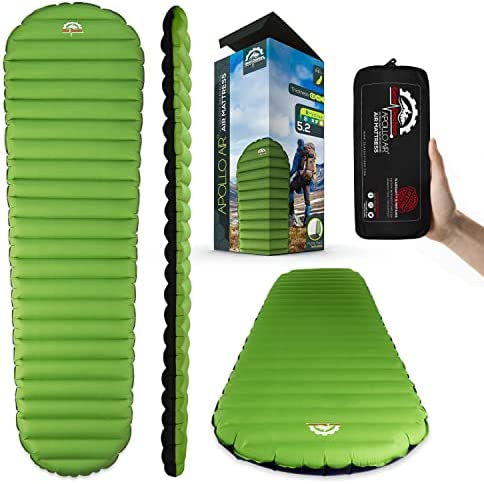 Gear Doctors Camping Pads Details:
𝐀 𝐒𝐢𝐳𝐞 𝐨𝐟 𝐚 𝐖𝐚𝐭𝐞𝐫 𝐛𝐨𝐭𝐭𝐥𝐞 𝐘𝐞𝐭 𝐁𝐢𝐠 𝐨𝐧 𝐂𝐨𝐦𝐟𝐨𝐫𝐭: Packs small 8.5" Height *3" Diameter When inflated it goes as large as 72" * 23 Widest 19 Narrowest" with 3.2" Thickness and weights only 17 Oz,
𝐖𝐚𝐭𝐞𝐫 𝐑𝐞𝐬𝐢𝐬𝐭𝐚𝐧𝐭 𝐔𝐥𝐭𝐫𝐚𝐥𝐢𝐠𝐡𝐭 𝐘𝐞𝐭 𝐔𝐥𝐭𝐫𝐚 𝐬𝐭𝐫𝐨𝐧𝐠: Our Water-Resistant Hexagon Shield 40D Nylon Fabric With E-LAST coating Makes ApolloAir Camping Mattress 2.5 x times stronger than current market standards without sacrificing the Weight Which makes it perfect for any outdoors environment
𝐒𝐢𝐥𝐞𝐧𝐭 𝐄𝐫𝐠𝐨𝐧𝐨𝐦𝐢𝐜 𝐃𝐞𝐬𝐢𝐠𝐧 𝐖𝐢𝐭𝐡 𝟓.𝟐 𝐑-𝐕𝐚𝐥𝐮𝐞: 3.2" Horizontal Insulating air Chambers will effectively distribute your weight on the sleeping pad while preventing the ground from sucking the heat out of your body, which makes ApolloAir Camping pad suitable for all seasons
𝐋𝐮𝐧𝐠𝐬 𝐅𝐫𝐞𝐞 𝐈𝐧𝐟𝐥𝐚𝐭𝐢𝐨𝐧 𝐰𝐢𝐭𝐡 𝐪𝐮𝐢𝐜𝐤 𝐀𝐝𝐣𝐮𝐬𝐭𝐚𝐛𝐥𝐞 𝐏𝐫𝐞𝐬𝐬𝐮𝐫𝐞 : Coming with a Pump Sack taking 5 minutes to "inflate > Adjust > Seal > Deflate" hence the name I>A>S>D. The 4 Step Anti Leak Valve System, To store Just vertically trifold it after deflation then roll towards the valve direction and it'll perfectly fit into it's carry Pouch , The Pump Sack can also be used as a dry bag , camp shower , or for water storage
𝐀𝐥𝐰𝐚𝐲𝐬 𝐭𝐨𝐠𝐞𝐭𝐡𝐞𝐫 𝐨𝐧 𝐭𝐡𝐞 𝐉𝐨𝐮𝐫𝐧𝐞𝐲 : our mission is to make sure your outdoor experience is an enjoyable adventure , so we use the best quality materials , test every single unit before we ship them out , Provide a detailed user manual , repair Kit and we back all this with our Hassle-Free Lifetime Replacement -No Need To Return-
Recommended Retailers

$39.99

$49.99
December 10, 2023 11:12 am
×
Product prices and availability are accurate as of the date/time indicated and are subject to change. Any price and availability information displayed on Amazon.com (Amazon.in, Amazon.co.uk, Amazon.de, etc) at the time of purchase will apply to the purchase of this product.
1 new from $39.99

Price history and price alert

Didn't find the right price? Set price alert below
Lowest price Product: Gear Doctors Self Inflating Camping Sleeping Pad for Camping 4.3 R Insulated Camping mats-1.5 in Must Haves Inflatable Foam air Sleep mat Self Inflating air Mattress for Camping cot pad Tent Floor - $39.99
-
Gear Doctors Camping Pads
Water resistant lightweight sleeping pad for tenting and backpacking
PROS
Price - Cheap when you consider it has a NO-HASSLE LIFETIME REPLACEMENT!
Quality - super lightweight but insulating too
Ease of Use - comes with a pump sack for inflating
CONS
Bubbles may form inside pad - which means it's time to replace FOR FREE!