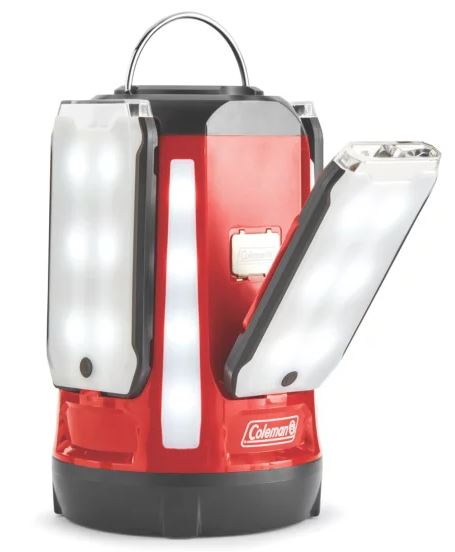 The Coleman® Quad Pro 800 Lumens LED Lantern will be your go-to light for camping, power outages, and more. Four Take-Along panels, each with its own controls, make it easy to take light with you without carrying the entire lantern.
4 take-along light panels recharge on base
Perfect for when you need light in more than one placeBuilt-in flashlight on each panel provides directional light when you need it
Fold-down panel handles double as stands
Magnetic panels provide hands-free light when attached to toolboxes, car hoods, steel-framed shelters and more
USB charging port to charge your mobile devices
Base light stays lit when panels are removed
Fold-down lantern handle for easy carrying in a space-saving design
Individual controls on base and each panel
3 modes (lantern): high, medium, low
3 modes (panel): high, low, flashlight
Lumens (lantern): 800 (high), 200 (medium), 100 (low)
Lumens (panel): 100 (high), 25 (low), 100 (flashlight)
Runtime (lantern 8D): 20 hours (high), 120 hours (medium), 400 hours (low)
Runtime (lantern 4D): 13 hours (high), 70 hours (medium), 200 hours (low)
Runtime (panel): 3 hours (high), 14 hours (low), 3 hours (flashlight)
Beam distance (lantern): 18 m (high), 11 m (medium), 7 m (low)
Beam distance (panel): 13 m (high), 6 m (low), 40 m (flashlight)
IPX4 water-resistant design
Base powered by 4 or 8 D batteries to conserve battery usage or maximize performance (sold separately)
Each panel powered by 3 AAA NiMH batteries (included)
Lifetime LEDs never need replacing
3-year limited warranty
Recommended Retailers
Price history and price alert

Didn't find the right price? Set price alert below
Lowest price Product: Coleman LED Lantern | Quad Pro 800 Lumens LED Lantern - $70.99
Price history for Coleman LED Lantern | Quad Pro 800 Lumens LED Lantern

Latest updates:

$70.99 - July 14, 2023
$83.33 - July 3, 2023
$78.44 - June 15, 2023
$82.50 - June 8, 2023
$81.68 - June 2, 2023
$80.87 - May 25, 2023
$80.07 - May 23, 2023
$78.44 - May 15, 2023

Since: April 26, 2023

Highest Price: $83.33 - July 3, 2023
Lowest Price: $70.99 - July 14, 2023
Compact and Sturdy!
I had one of the earlier quad lights and while I really liked it, I really love this light. In general, it puts off a pleasant colored light. It has 3 brightness settings which are really handy depending on what you're doing. When off of the main light, each of the panels has 2 brightness settings (also real handy), as well as a super bright flashlight. With all panels removed the base has enough lights to be a formidable lantern all on its own. I do haul it in the box, so that the panels don't come off in the car getting jostled around, as they are held in place by magnets. Its also nifty that it will run on either 4 or 8 D cells. Had it on a couple of 3 day trips and haven't had to change batteries yet.
PROS
Brightness
Battery Life
Light Weight
CONS
Not rechargeable, but D batteries are available everywhere!